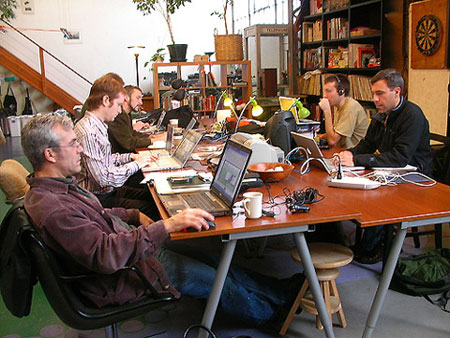 Heh, that looks farmiliar. The Hat Factory is on boingboing, now we know coworking has jumped the shark. Let's declare this fad done and stick a fork in it.
(Those san-franciscans are so incestuous. :)
From:
Boing Boing: Co-working facilities for social-hungry solo freelancers
Cool piece in Businessweek about the rising popularity of "co-working" spaces for independent, internet-age freelancers who are burnt out on working from their homes (cons: too isolating, makes you crazy, no work/life boundaries) and don't want to just work out of Starbucks (cons: too public, not networking-conducive, laptop theft, rising price of lattes). Image above, hatfactory in dogpatch, San Francisco.
I said that all in jest of course.
In all honesty... co-working is the future, if only for the simple reason that in a future where we can work and live anywhere we want we all need to get out of the house sometime.
Other interesting trends are
community bike shops
and
tool lending libraries
. You might also notice trends with car co-ops and not that these things are are as here to stay as hostels and regular libraries and that they all serve the purpose of stimulating social capital (the base of all economics) by providing providing greater social and economic mobility.
Furthermore another trend is that these things can be done increasingly for profit debunking neo-con remarks about socialism. These newer trends are in infact the finest form of democracy and the free market in action to date as many sharp economists will tell you. Do not be fooled just because money doesn't change hands as in the case of wikipedia does not mean that it's not capitalism.
It reminds me of something Brewster Kale of Archive.org said of his idea of a great libarary of all the world's knowlege. To paraphrase poorly, "Who will fund this alexandria? The free market fund it, it's in businesses best intrest." ... or something like that... what he really said was way better you'll just have to google it.
The truth is there is a parrellel between a culture's economic wealth and providing many of the most basic needs... ie. it's social health. This does not mean people sitting on welfare checks as some idiots might misconstrue. This means...
1) "competing with free" is not only a fundamental prerequisite of modern business, not just intellectual property businesses like Music, but also necesities like water, food, shelter, clothing, education and an increasing array of services. In the U.S. somehow pretty much everyone has access to the necesities like water. Water is in fact free, and yet the water industry is so lucrative even a screw up like Coca-cola with
Dasani
can make money.
and
2) On some level providing free or cheap open unencumbered access to the tools that make society work is not just good business sense but maybe also a moral imperative. It's not socialist any more than wikipedia is socialist... it's just solid free market economics... give something away for free and hold something in reserve to sell for profit is a fundamental principal of doing business on the internet and the future of all business models. The trick is nowing how much to give away for free vs. how much to hold for sale and profit?
Ramble. Ramble. Ramble.